What do a former nurse, IT management consultant and a learning mentor all have in common?
Published: 12 July 2017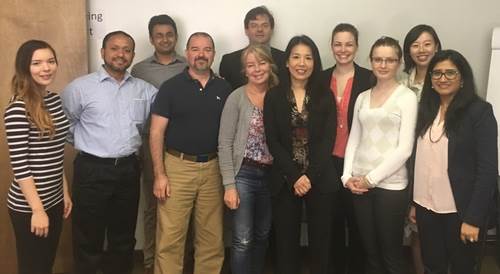 Despite coming from such diverse backgrounds, all three have just launched their brand-new Tutor Doctor franchises across the UK! Lisa Maclean, Shantanu Gupta and Jonathan Parks each share a common vision: to empower the young people in their local communities to achieve their potential.
"I am totally passionate about the importance of a good education; it provides options and opportunities in life! Tutor Doctor makes this happen in a professional manner, with consistency and good customer service at the heart. Moreover, it's aligned to my personal values and aspirations in life," explains Lisa, former NHS Director of Nursing and Quality for Buckinghamshire.
The three latest members of the Tutor Doctor family will be making a very real difference to the lives of students and their families in Milton Keynes, North West London and Southampton. Already the global brand of choice, with 49 franchisees now operating nationwide and another seven training in August alone, Tutor Doctor remains the fastest growing home-tutoring franchise in the UK.
A qualified Adult and Mental Health Nurse, Lisa has vast experience working with people and supporting them to overcome issues and achieve their goals. Her own son is Dyslexic and, having experienced difficulties getting him the right academic support, she's passionate about ensuring others don't face the same challenges.
"I'll always remember the heartache and anguish trying to get my son the right support for his special learning needs. It was a hit and miss affair; various home tutors were employed with little progress. Thankfully, due to tenacity and determination, on his and our part, he managed to succeed at school and maintained his self-esteem and confidence. But it shouldn't have to be such a struggle! Tutor Doctor gives me a huge opportunity to give something back to the community in which I live, and play a part in the success of the next generation."
Shantanu's impressive 20-year career spans management consulting and sales, focussed on IT services for global corporates like IBM and PWC. He was inspired to combine his business acumen with a genuine desire to help young people after seeing his son grow in confidence and stature through supplemental learning support.
"The drive to do something of my own and be in control of my own destiny had been with me for a few years but I knew that going it alone was fraught with risk! I discovered franchising at the London Business School and focussed my due diligence on the education sector. I knew that's where I wanted to be both from personal interest and the fact that I saw education as a 'recession proof' industry. As I saw with my son, with the right guidance and the right attitude, the confidence which you can instil into a child is priceless. Out of all the education franchise options, Tutor Doctor shone out because of their professionalism, their systems and processes and the people I met."
After returning to the UK 12 years ago, Jonathan took up the position of Head Teacher at a language school and later became a Learning Mentor for students at Southampton University. Supporting students and teachers alike is second nature to him and it's something he feels incredibly passionate about: "What attracted me to Tutor Doctor was the professionalism, the great systems for tutors and lessons and the support that everyone in the process gets, not just the student. I'm a firm believer in engaging parents as well as students and helping them to help their children reach their potential."
Jonathan will be joined in the franchise by his daughter Jessica and the dynamic due are set to make a splash in their community!
Perhaps surprisingly, as a former education specialist, Jonathan is a minority in the Tutor Doctor network. In fact, 80% of Tutor Doctor franchisees don't come from a teaching background at all as UK Country Manager, Tim Morris, explains:
"The desire to make a difference in children's lives whilst building a successful business is what drives our franchisees. By being great communicators and motivated professionals, franchisees can take our meticulously refined systems and processes and, along with our support and guidance, to create exceptional businesses. We couldn't be more proud of our network and those who look to Tutor Doctor for their future, be they customers or franchisees, will continue to benefit from our strength and commitment to be the very best."