Find your TRIB3
Published: 17 December 2020
When it comes to fitness franchising – focus on the TRIB3 experience
TRIB3 is all about giving people such a memorable and unique experience - through a strong community vibe and unforgettable group workout - that people choose to stay. Not because they have to, but because they want to.
Consumers now seek increasingly social and effective workout experiences and expect more from their fitness providers. Research has found more than two-thirds of people feel more motivated working out in a group and almost 50 per cent believe they get better results versus exercising alone. Following the 2008/2009 recession, through which the fitness industry proved to be very resilient, the major concepts to emerge in the market were the low-cost formats and the boutiques, both of which offered polarised but highly flexible services. So called 'budget gyms' addressed the need for an accessibly priced, low-service offering while the higher-end, 'tribal' boutique fitness model capitalised on an emerging demand for experience-led fitness offerings at the upper end of the market.
The fitness franchise market
Both of these concepts have opened the market attracting new audiences and diversifying the consumer demographic, allowing for continuous growth, year on year. Similarly, franchise business models have been a key driver of growth in the US fitness market and UK trends are expected to follow suit, currently sitting at around five per cent penetration with major operators continually entering this market.
Eight years ago, there were only a few franchised fitness businesses in the UK, now there are several variations, from low-cost to premium service and from 'big box' to boutique across the spectrum of fitness and wellbeing. This is increasing the interest in the sector from entrepreneurs with a keen interest in health and wellness who may have historically considered food and beverage franchises as the primary investment opportunity to consider. Especially as fitness franchising has been alive and well for several years internationally so has proven, with the right focus on experience and accessibility, to be very fruitful.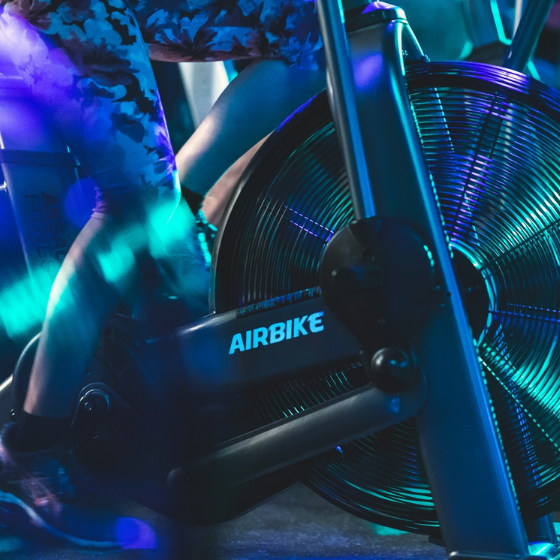 Arguably the most exciting opportunity for prospective franchisees in the fitness franchising space is boutique. With their smaller 'studio' settings but high quality fit out and higher but flexible pricing, boutique fitness has capitalised on an ever-growing 'experience culture' highly sought after by younger 'millennial' and 'Gen-Z' audiences. Offering high-service, focused fitness concepts that deliver rich and personalised consumer experiences, they steer away from traditional subscription models. Workouts are integrated with technology, something which has become extremely popular in recent years as people are more aware of their lifestyle choices, wanting to track their fitness performance and focus on optimising their health.
Bouncing back
While the COVID-19 pandemic has no doubt had a significant impact on the fitness sector as with many industries globally, with the 'volume boutique' model, facilitated by a unique studio design, and with its close-knit communities, TRIB3 can demonstrate how quickly boutique fitness can rebound with the right set-up. The company saw over an 80 per cent return rate in month one after the recent UK national lockdown with an average 78 net-promoter-score (NPS).
Digital fitness
Likewise, the pandemic has also accelerated a trend that had been emerging in the last few years and offers a new and exciting revenue stream for fitness franchisees: digital fitness. There was a 500 per cent increase in Google searches for at-home workouts in the midst of the pandemic and most operators mobilised or expedited virtual platforms for their customers. With digital fitness content here to stay and likely to be expected of traditional operators ongoing, at-home workout platform, TRIB3 Live, takes away the cost and effort to create this content from the franchisee.
Plus, TRIB3's franchisees are compensated financially, in the form of a kickback, when their store customers engage with the platform, creating a revenue stream agnostic of the physical studio. As the platform was designed to echo the core studio experience, it allows the brand to grow consistently but at scale on a more national level, reaching as many people as possible and creating awareness of TRIB3 in new markets. 
Good health has never been so crucial
One of the most important messages we've heard over the last year has been that remaining physically active is crucial to long-term health and to keeping people fighting fit, with the UK's Chief Medical Adviser stating: "There is no situation, no age and no condition where exercise is not a good thing." That means there's never been a greater spotlight on the industry as a positive force for change and a sector that can and will grow as more people get physically active.
Fitness franchising allows for efficient and fast growth of the sector and allows people with a passion for health and wellbeing, or looking to enter into a positive and important sector, to start their own business with less risk and more support. And there's no need to wait as the actual measures and operational adaptions needed to manage COVID-19 are far less impactful than you might initially think. Boutique operators have been able to implement physical distancing efficiently into the model, as class-based fitness is already built around capacity management and zoning, so these types of fitness franchises will offer a safe but enjoyable way to come back to group exercise. Plus with TRIB3's unique studio design – which facilitates at the usual capacity over 42 spots-per-session – its 'volume boutique' model is extremely resilient to distancing measures. TRIB3 can protect customers and its teams but also protect the workout experience that its community knows and loves!
At TRIB3, focusing on experience at every touchpoint is what keeps customers coming back time and time again. Every part of its boutique studios — from the changing rooms and fitness spaces to the mixology bar, lighting, the custom heart rate monitors and music — is designed to be a highly sensory and unforgettable experience. TRIB3 focuses on sight, sound and smell to engage and delight its TRIB3Rs, creating a highly loyal customer base. That's why circa 80 per cent of revenue comes through repeat business as a TRIB3 store matures.
The TRIB3 business model centres around putting the customer at the heart of everything so that every time someone sets foot inside one of its boutique gyms, they receive exceptional and unrivalled service. This means TRIB3 can offer high returns and a fast break-even for franchise partners as well as the chance to be part of an exciting global movement in fitness. Come and lead the change with TRIB3.