Getir: Pioneers of ultra-fast grocery delivery
Published: 31 May 2022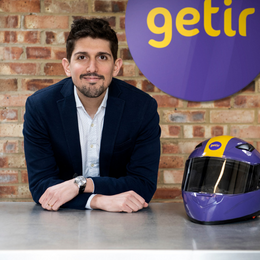 Who is Getir?
Getir is the pioneer of ultra-fast grocery delivery, delivering to customers' doors in minutes. Customers can browse its 2,000+ products and find everything from every day groceries to forgotten phone chargers. Speed is currency at Getir, which it achieves by having local warehouses dotted around UK towns and cities, known as 'gstores', paired together with technology, enabling customers to receive groceries in minutes. Getir serves the convenience customer, the lazy Friday nights and the 'I forgot the milk' customer. 
It's an exhilarating time to partner with the industry leader of ultra-fast grocery delivery. With enormous success overseas, Getir is now expanding its UK franchise model. 
Getir's smart algorithms ensure that customers have the perfect product selection, personalised recommendations based on prior purchasing history and competitive pricing. It anticipates customer needs on-demand and at the right time, honing its loyal customer base. Then it's up to the gstore teams to pick fast and deliver safely, despatching groceries in minutes.
A fast-growing business
Founded in 2015, the following year Getir signed its first franchisee in Istanbul and from there the model grew at a rapid pace. By the end of 2021, Getir exceeded 600 franchises across Turkey. Today, Getir operates over 140 gstores in towns and cities across the UK. Globally, Getir operates in nine countries — Turkey, its birthplace, the UK, the US, Netherlands, France, Germany, Spain, Portugal and Italy. 
The gstores are successfully operating and taking orders, readily awaiting the best franchise partners in the UK. Franchisees will own and operate existing gstores with the chance to generate revenue from day one. The opportunity is a turnkey model, with Getir providing the stock alongside comprehensive operational and marketing support. The growth continues with the company expanding its franchise model across the UK, with new stores being opened at 'Getir speed'. Getir acquired the UK's first ultra-fast grocery disruptor Weezy, accelerating market share and delivering to even more customers every day. 
Getir has driven its success, securing its place as a much-loved market favourite, with strong year-on-year financial growth and further expansion in the UK and worldwide. Even with such exponential growth, customer service remains at the heart of what Getir does. In its latest valuation, the company became a decacorn, with a valuation of $11.8 billion.
Getir is the #1 most downloaded ultra-fast grocery delivery app in the industry. It has seen millions of people choose the app for on-demand grocery delivery, anchoring itself a growing loyal UK customer base. Today the organisation has around 40,000 'Getirians', underpinning the highest standards across all areas in which they operate globally. 

The latest in technology
Getir provides a proven business model with rapid scale-up potential. From day one, franchisees have the opportunity to embrace a fully operational business, with premises, staff and stock all taken care of. With its innovative behind-the-scenes technology, Getir ensures deliveries in minutes. The protected IP provides franchisees with everything required to run the business efficiently and with ease. Put simply, Getir's technology works hard, enabling you focus on business success. In turn, customers are provided a fantastic user experience with a friendly interface, ongoing customer support, personalised product recommendations, promos and more. It's as easy as that.  
What's the opportunity? 
Find out more by reading the full article in the latest issue of Business Franchise>>