London Show Guide issue out now
Published: 31 May 2022
The Summer 2022 Show Guide issue of Business Franchise is out and free to read!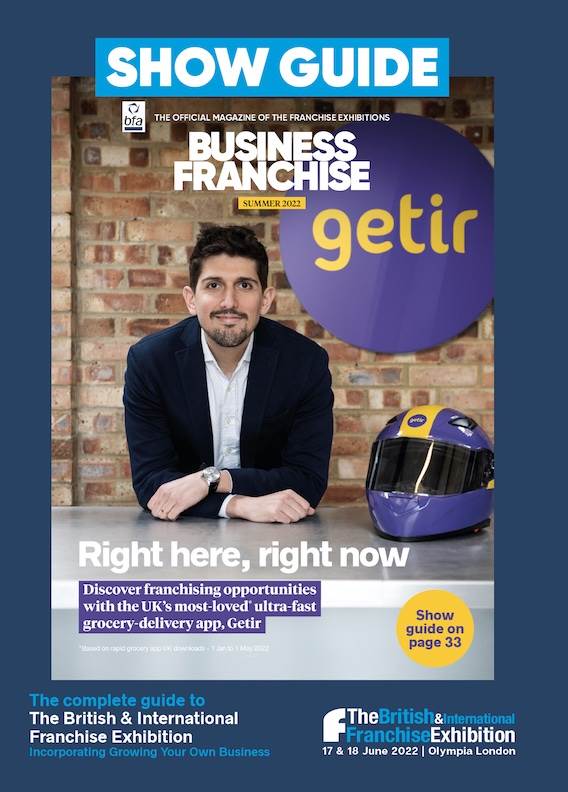 Packed with all the information and guidance you need on your franchise research journey, this edition carries your full guide to the upcoming British & International Franchise Exhibition taking place on 17 and 18 June, including how to book your consultation withexpert advisers at the event, prepare for your visit and details of the many top franchise brands exhibiting over the two days. Go straight to your free Show Guide >>

The magazine also features an array of franchisee case studies as well as pages and pages of business opportunities for you to explore. Advice pages include how to raise funds and chart your business plan, plus insights on running businesses from a variety of sectors - from care to coaching, food to fitness, there's something for everyone here! 
Also featured:
On the Cover - Frontrunner in the game-changing ultra-fast grocery delivery service, pioneering brand Getir is expanding fast >>
The Multi-unit Franchise Forum & Networking Lunch - an unmissable one-day event for existing franchisees with aspirations for growth. Find out more - and reserve your place >>
Flexible franchising: Why the business model can give you back your work-life balance >> 
Your Questions Answered: Exactly what you need to ask, look out for and weigh up  in order to find the right business opportunity for you - from the experts >>
We care!
• The at-home care franchises looking after the community and serving a high-demand market and...
• kids' franchises – the childcare and activity businesses bringing joy, rewards and income.
Never miss an issue - subscribe today to receive your regular free copy of Business Franchise >>