Franchise Hero: Imogen Clarke
Published: 05 March 2020
Imogen Clarke is the franchise development manager at Home Instead Senior Care
How did you get involved in franchising?
Home Instead Senior Care was the first company I worked for after university. I've experienced various areas of the business, including marketing, operations and franchise development. I have never felt the need to leave, as I have been able to continually progress.
I love the values and the culture, and I enjoy sharing this knowledge with our new franchise owners.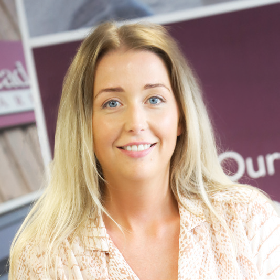 What is your career highlight?
I love bringing new people into franchising and the Home Instead network. I always remember the first conversation I have with prospective franchisees, talking through what they can expect and then seeing them go on to great success as a franchise owner.
What was your childhood dream job?
I wanted to be a barrister from a young age. It was because my dad told me that I should be one, as I was good at winning arguments!
Who has been the biggest influence on your career?

Business development director Ruth Brown – she has supported me continually and given me every opportunity to grow and develop. I often say I like to channel my inner Ruth!
How do you relax?

In two completely opposite ways dependent on how I am feeling. I love to settle down and
eat chocolate, or food in general, but more recently I have been going for a run; I think they nicely balance each other.
Tell us a little-known fact about you...
I once competed at Crufts with my flat-coated retriever in the junior class. I also appeared in the first episode of Hollyoaks accidentally, I was having a swimming lesson in the background as they were filming a scene.
Drink of choice?
I'm not a big drinker, but I do enjoy a gin and tonic, with either lemon or lime. I genuinely prefer water, is that strange?
Perfect holiday destination?
It would have to be Greece – sunny, amazing food, bright blue sea and skies, so relaxing.
Dream dinner party guest(s)?
David Attenborough, Bear Grylls, Michelle and Barack Obama, Elton John and Cher – lots of talking and potential for a good singalong too.
Who's providing the dinner party soundtrack?
George Michael, no hesitation.
How would you like to be remembered?
That I was true to my word, loyal and could always see the positive in everything.